DINING
World-class dining rooted in Polynesian life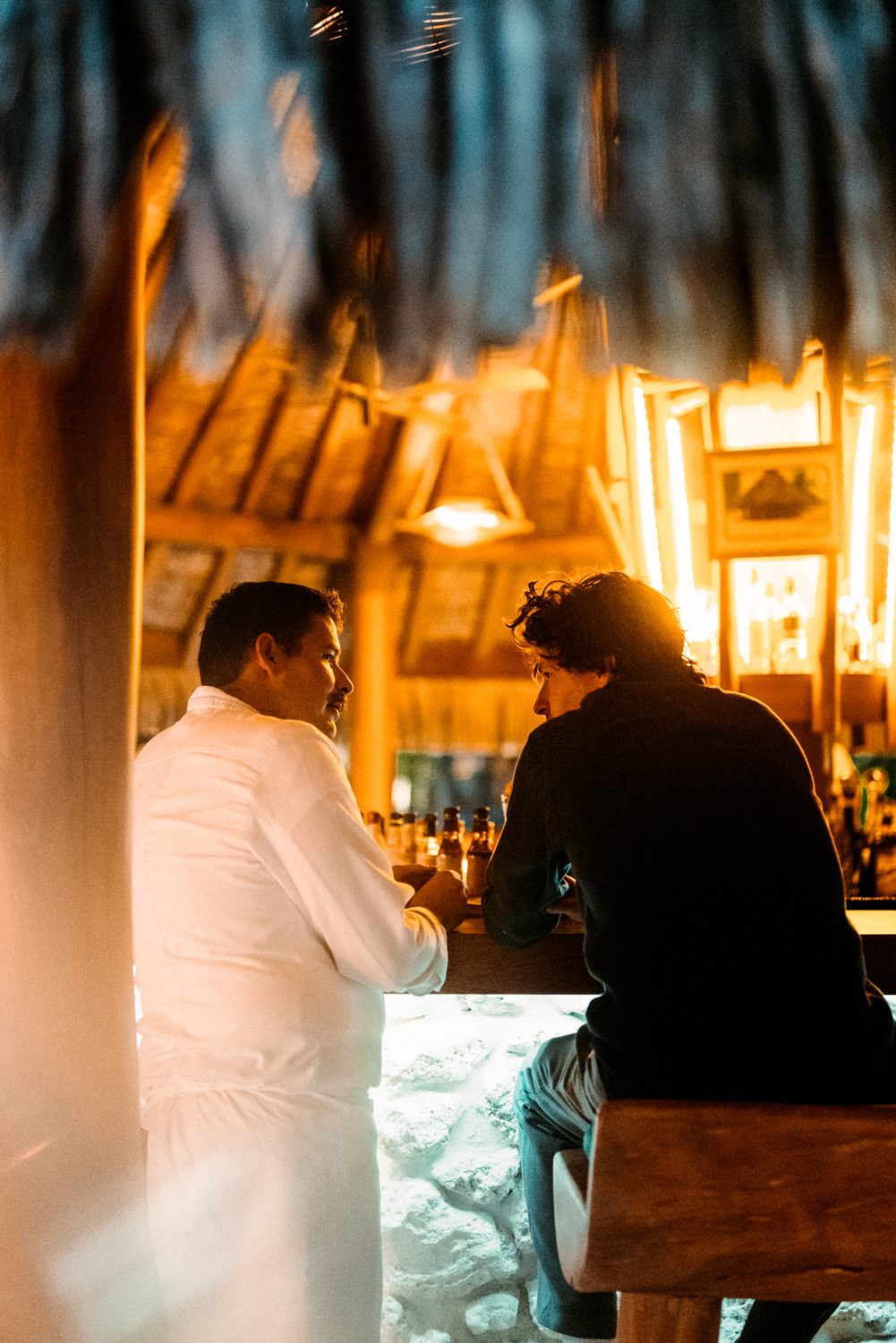 New experiences await as creative French chef Jean Imbert brings his signature style to every aspect of dining at the resort, marrying the flavors of Polynesia with the classic techniques of France.
With a background at world-class venues, including Plaza Athenee and Maison Christian Dior in Paris, Cheval Blanc St-Barth hotel, and Venice Simplon-Orient-Express, the chef's touch can be experienced in new menus that tell stories through food, updates of classic favorites, and a focus on locally sourced ingredients from Tetiaroa to give you a true taste of Polynesia.
Food is one of the main ways Polynesians connect with their culture. With Chef Imbert at the helm, you'll connect with Polynesia and the bounty it provides in new and unexpected ways.
Contact concierge to plan your Unique experience
---
BOB's bar
Beachside food and drink in Marlon Brando's original bar
Long before the Brando existed, there was Bob's Bar. It all started here, where Marlon would come at the end of each day and ask his friend Bob to create a cocktail for him. Our in-the-round homage to Marlon and Bob sits squarely on the beach and serves up South Pacific food and drink inspired by Marlon's films.
Put your feet in the sand, order Marlon's favorite cocktail–a Dirty Old Bob, then raise your glass, and give a toast to Tetiaroa.
Lunch, Dinner, Cocktails
nami teppanyaki
An intimate table built for socializing at a Japanese grill
At Nami, it's just the eight of you and the chef centered around a teppanyaki grill. Sushi is expertly sliced and rolled, steak and shrimp are cooked to perfection in front of you, and sake pairings are the perfect complement to a multi-course meal. It's here around the grill where you chat about where you're from, share the adventures you've experienced while on Tetiaroa, and connect with other guests who quickly become new friends
Beachcomber cafe
Simple, fresh dishes for everyone, all day long
Open all day for breakfast through dinner, Beachcomber is a casual, feet-in-the-sand kind of place for everyone. An extensive menu focusing on Polynesian flavors, simple dishes, and local ingredients offers something for everyone. Indoors or outside, in the sun or under cover, on solid ground or in the sand next to the beach, this is what you dream of when you think of dining at a resort, on an atoll, in the middle of the South Pacific.
Dinner
Breakfast, lunch, dinner
Te Manu BAR
Sip cocktails while you float atop a canopy of palms
As you ascend a gently angled pathway skyward, you'll quickly find yourself in the middle of a cocktail lounge perched above the beach. Inside, sofas and comfy chairs create cozy areas for sharing stories of your adventures from the day. Bartenders ask for the ingredients you love, and create a cocktail just for you.
And outside, short walkways lead to private seating areas, jutting out into the air and hanging over the beach. With endless views of the lagoon, motus dotting the landscape in the distance, and the sun setting over the atoll, nature knows how to put on a show that will have you returning night after night.
Evening cocktails before and after dinner
Les Mutinés
A Polynesian fine dining experience with Jean's special touch
Les Mutinés is special and sophisticated, yet completely laid back—the way food is supposed to be enjoyed on Tetiaroa. There's a gentle flow to a dinner that moves subtly between dishes with ingredients sourced from local seas, ranches and farms. And with a perfectly paired splash of wine from top chateaus in France with every dish, this is our kind of fine dining.
Dinner
PRIVATE DINING EXPERIENCES
Head out onto the atoll for a private dining experience
Create your own magical experience on the atoll in a secret place selected just for you. We'll set up a barefoot table for two at the water's edge, serve cocktails on a motu as the sun arcs toward the horizon, or lay out a mid-day beach picnic for the entire family. Each unique experience creates memories that last long after the day is done.
plan your Unique experience
IN VILLA DINING
Dine at your home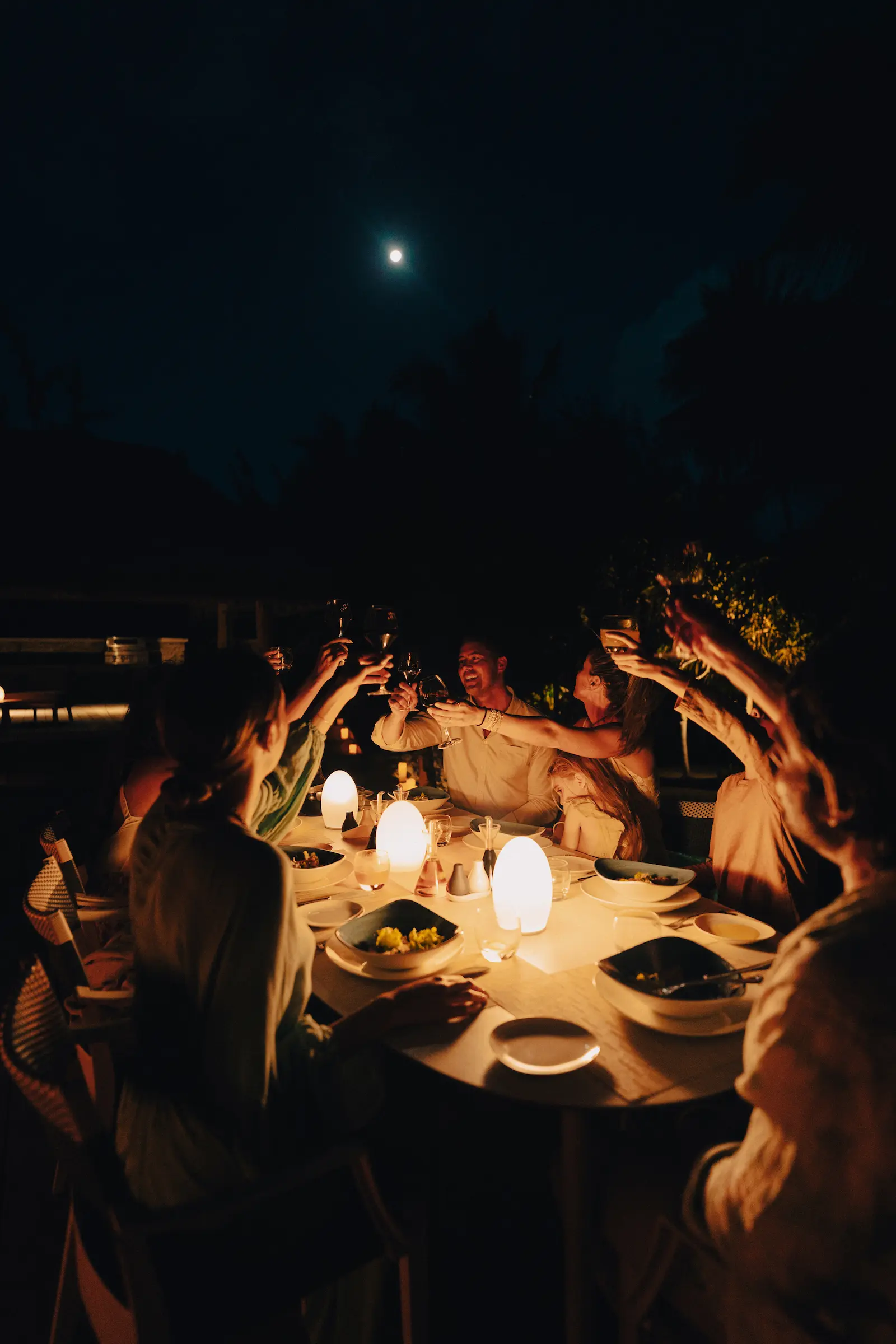 You can enjoy a meal whenever you want, 24 hours a day, at your villa. We'll bring everything you need to enjoy a meal indoors, outside on your private deck next to your pool, or down on the beach. When you're here, you truly are home.
Vegan options are available in all restaurants.
"It has to be personal. Food is very sensitive. It's a part of you. It's close to love."
Jean Imbert