The Tetiaroa Atoll
Millions of years in the making, protected for the future
The Tetiaroa Atoll is a place unlike any other. Built by volcanoes and preserved by coral, this is where nature, Polynesian people, and their culture come together to seamlessly coexist with a world-class resort. The Tetiaroa Society oversees and protects the atoll in conjunction with the resort and the Brando Family Trust to ensure this oasis in the deep blue Pacific is preserved and protected for future generations.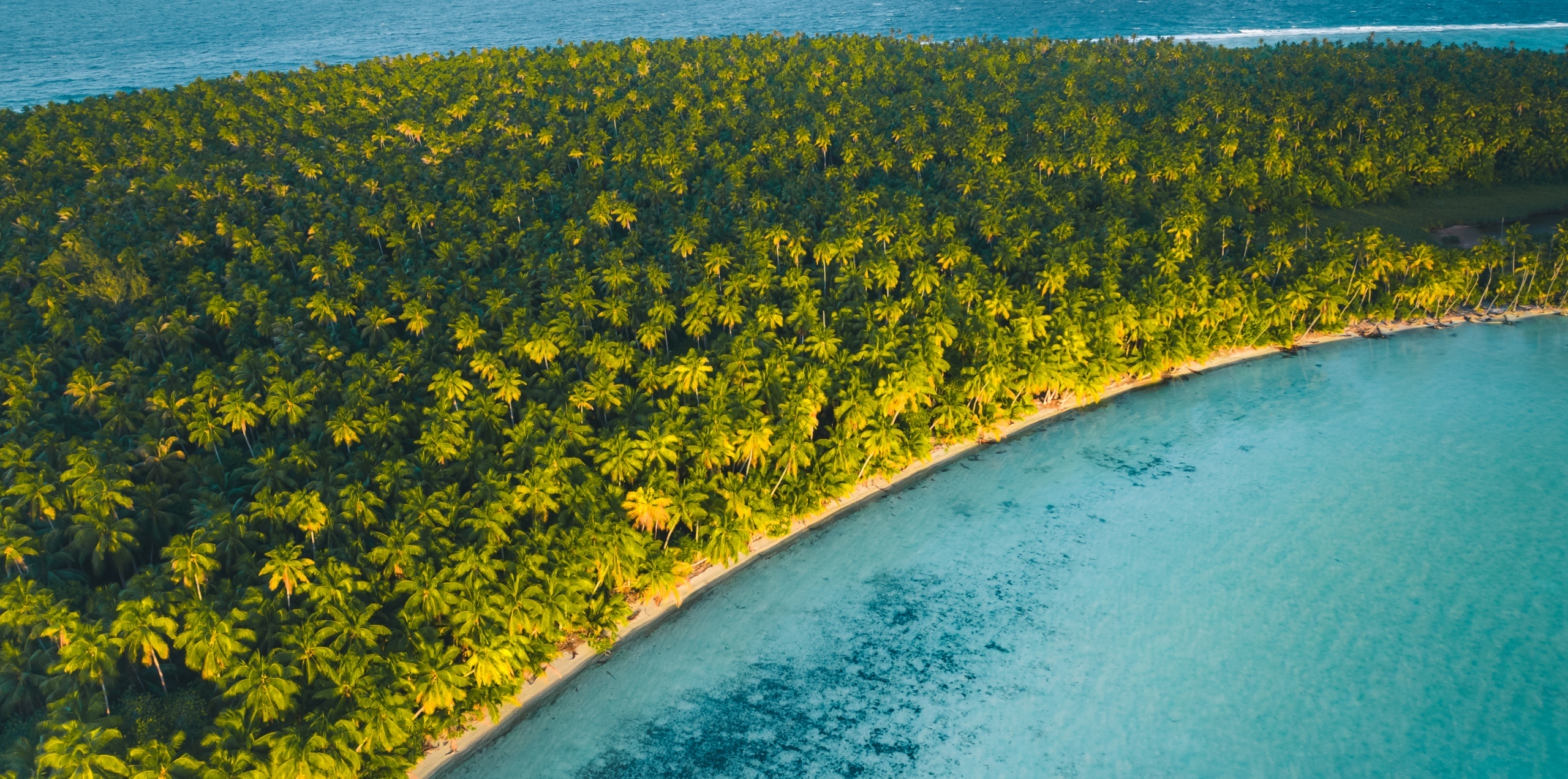 The formation of Tetiaroa
Three million years ago, Tetiaroa was a volcano rising from the ocean floor like its sister islands of Tahiti, Moorea, and Bora Bora. The magical ring of beautiful islets (called motu in Tahitian) sitting on top of a living reef is less than one percent of its complete structure. These motus rest on hundreds of feet of ancient reef below sea level, and then thousands of feet of volcanic base stretching down to the seafloor.
Atolls are 100 percent organic—everything is either a living organism or has been produced by a living organism. As one of the most diverse ecosystems on Earth, atolls are home to 30 percent of all marine creatures.
A self-sustained ecosystem
The ecosystem of an atoll creates and maintains its own terra firma which protects it from the erosional forces of the ocean. The calcium carbonate skeletons of reef organisms make up the barrier reef, which both protects the motu from direct wave impact and is the source for all the sediment of the island. The soil on the motu is nourished by nutrients brought from the ocean by seabirds and creates a rich base for a distinct flora and fauna.
A fresh water lens forms in the motu sediments, floating on the more dense seawater below. The larger the motu, the larger and deeper the freshwater lens, and therefore the greater number and variety of plants it will support. 
Polynesians on the atoll
There is a long and deep history of this place that is mysterious, awe-inspiring, and revered. In the past, Tetiaroa was a special getaway for Tahitian royalty to retreat, entertain, and partake in beauty rituals. 
Before this it was a gathering place for Polynesian tribes who met around sacred Maraes, fusing their culture, customs, religion with nature in a way that deeply influences the people of Polynesia today.
.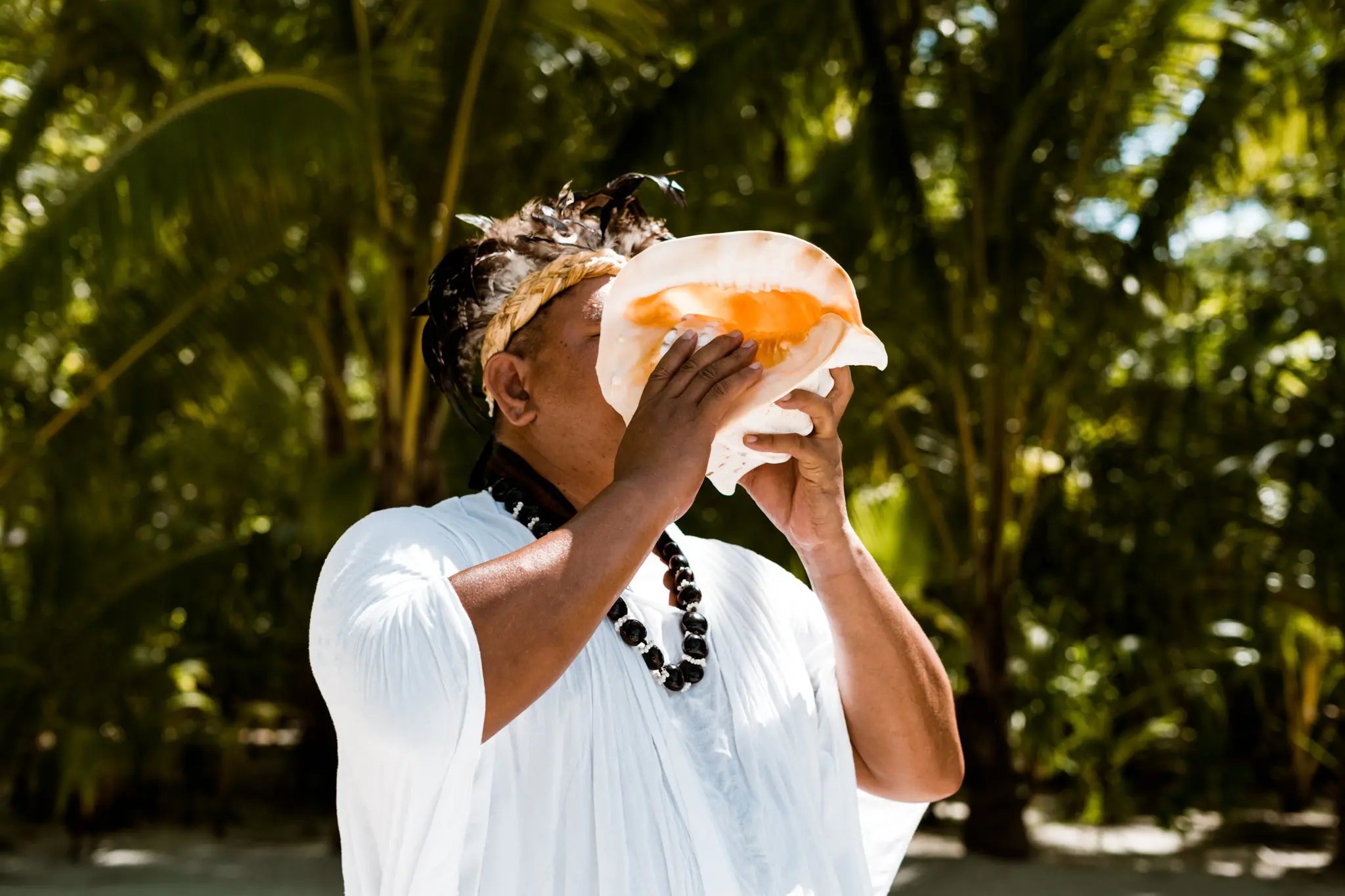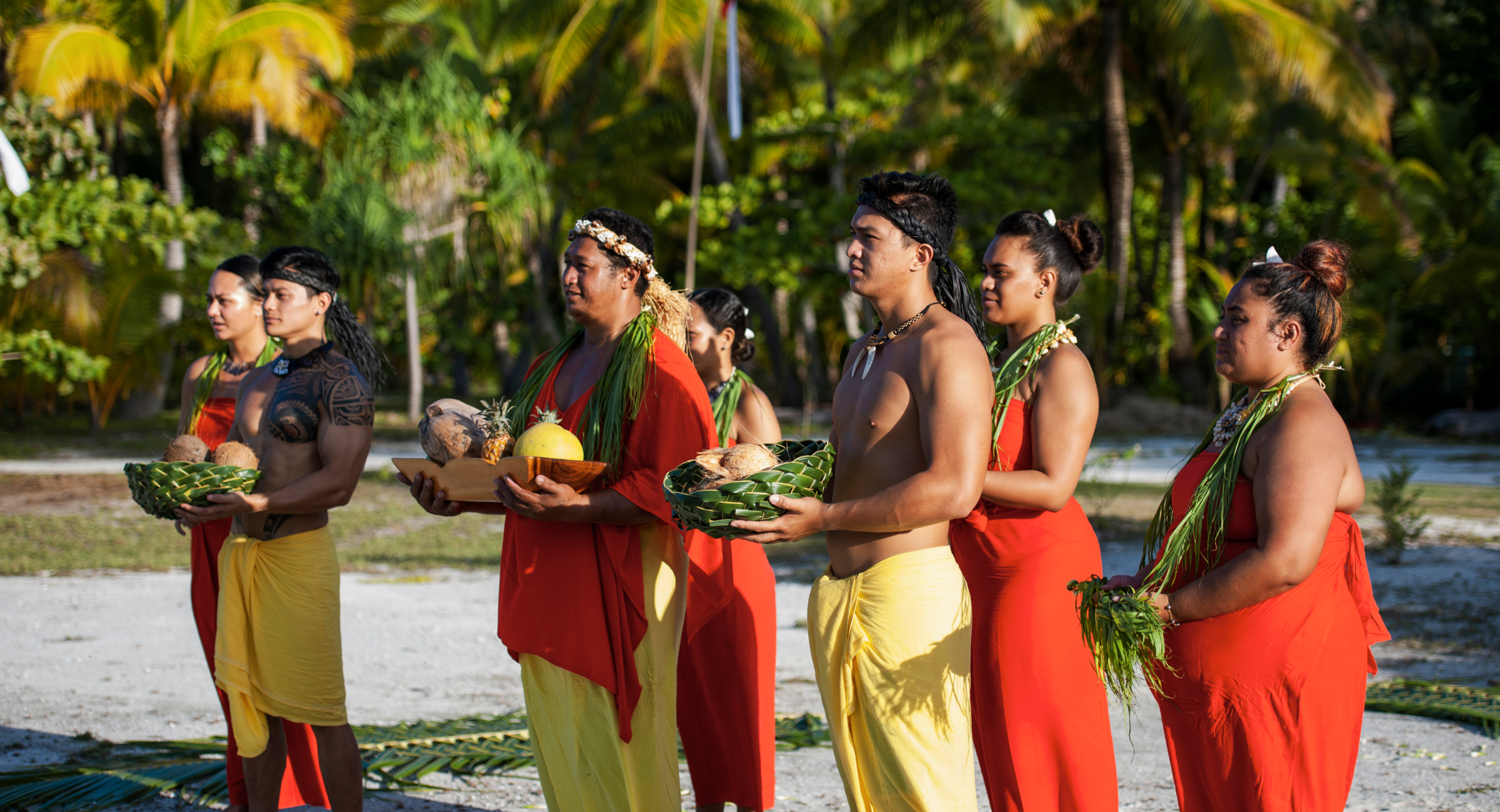 "You can't bring culture here, you have to adapt to theirs."
Marlon Brando
Marlon Brando's vision drove the future of Tetiaroa
Marlon first spied Tetiaroa on a hike in Tahiti while filming Mutiny on the Bounty in the early 1960s.  It was here he found a place of indescribable beauty and Polynesian authenticity,, that offered  a quiet and secluded place to connect with others, with nature, and with himself. 
Marlon was fascinated by renewable resources, organic farming practices, and alternative energy sources, long before it was in the zeitgeist. He was driven by a desire to create beautiful structures while causing the least impact on the environment. 
Marlon's intent was always to honor and respect the land, the Tahitians that came before him, and the people who come after him.
​​Pacific Beachcomber SC invests to protect Tetiaroa
Marlon formed a close friendship with Richard Bailey, a local hotelier and property developer. For many years, the two shared a dream to build a luxury resort at Tetiaroa that would be a paragon in sustainability and stewardship.
That day came in 2009 when the Brando Family Trust granted approval to  Pacific Beachcomber, Richard Bailey's company, to build the 35-villa resort that would be known as The Brando. The resort finally opened in 2014 to rave reviews and began welcoming guests from around the world.  
Preserved out of respect for nature
With Marlon's original vision and help from Pacific Beachcomber, the non-profit Tetiaroa Society was created to protect the atoll by developing a research and educational center, and continuing to study the environment and ecology, as well as exploring innovative forms of conservation and alternative energy.
And The Brando became reality as one of the world's most sustainable luxury properties, where, to this day, it remains resolute in its mission for zero carbon footprint hospitality.
A stay that leaves the right kind of impact
Marlon envisioned a place that could change the world, where intellectuals, scientists, travelers, and locals would come together, be inspired, conduct research, and educate others in the place that he called home; A place where luxury lives in harmony with nature; A place that is soul-cleaning and life-changing; Where the outside world melts away; And where connection to nature, wildlife, the Polynesian people, and their culture happens in an authentic and organic way. This is the true treasure of Tetiaroa.
Wildlife
From the sky above the atoll to the depths of the ocean around it  lives an array of wildlife nearly unrivaled in its diversity for such a small area. Fish share space with crabs, sea urchins, spiny lobsters, sea cucumbers, sharks, rays, and sea turtles. Even whales pass by the outer edge of the atoll during mating season. 
On land, the world's largest terrestrial arthropod, the Coconut Crab, and a variety of other crabs are the dominant organisms. For centuries, however, the wildlife population on the atoll was at threat from two species of invasive rats. Now, thanks to an eradication effort in 2020, rats were eliminated from Tetiaroa, allowing the native wildlife to thrive. 
In the air, nine species of seabirds call Tetiaroa home, each carving out their own air space and feeding grounds in concentric circles at sea. Tetiaroa also hosts a large breeding population of Pacific Reef Egret, a native terrestrial species. The atoll serves as a wintering site for migratory species such as the Pacific Golden Plover and the Wandering Tattler, which breed in North America, and the Long-tailed Cuckoo from New Zealand.
Flora
Native plants colonized Tetiaroa with their floating fruits or seeds via very light spores dispersed by wind. Birds transported other species, including sticky fruits and edible fruits.  The percentage of native species is very high on atolls like Tetiaroa as opposed to high islands with many more introduced species. 
Along with the native species, there are plants introduced to the atoll by Polynesians. These plants reflect and reveal the activities carried out here. While some are primarily for food, like coconut, Polynesian arrowroot and taro, others are for more specific uses such as medicine, soap, and dyes. Efforts are being made to control and eradicate  invasive introduced species of plants to restore the native ecosystems.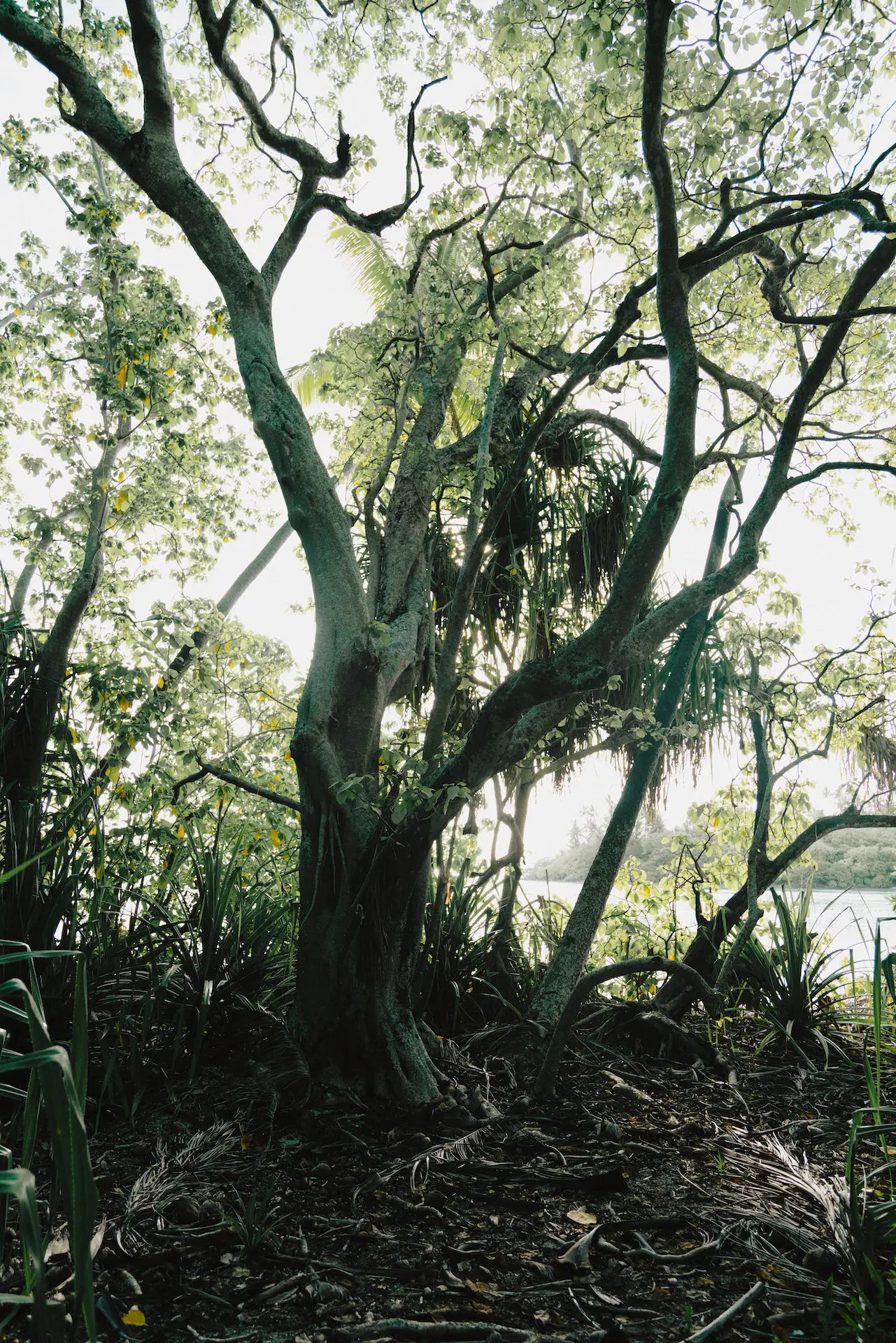 Archeology
Archeology sites dot the landscape across the 12 motus of Tetiaroa. Many are historically significant and rare, such as an archery platform, identified by its crescent-shaped end which was frequented by ari'i nui who came here to prove their strength and mana by shooting arrows in distance. The presence of such archery platforms on Tetiaroa is a strong marker of high-ranked chiefs on the atoll. Also of interest is the basalt anchor in the court of a marae, or sacred place, located in front of the altar. Ancient Polynesians used to consider the ocean as the primordial marae, a concept that might reveal the symbolic meaning of this artifact disposed in such a sacred place. 
And on Rimatuu, close to the lagoon shore, a large elevated platform of 23 by 4.5 meters might have served as a a place for dancing. In the vicinity, a freshwater source has been arranged by disposing coral slabs on edge.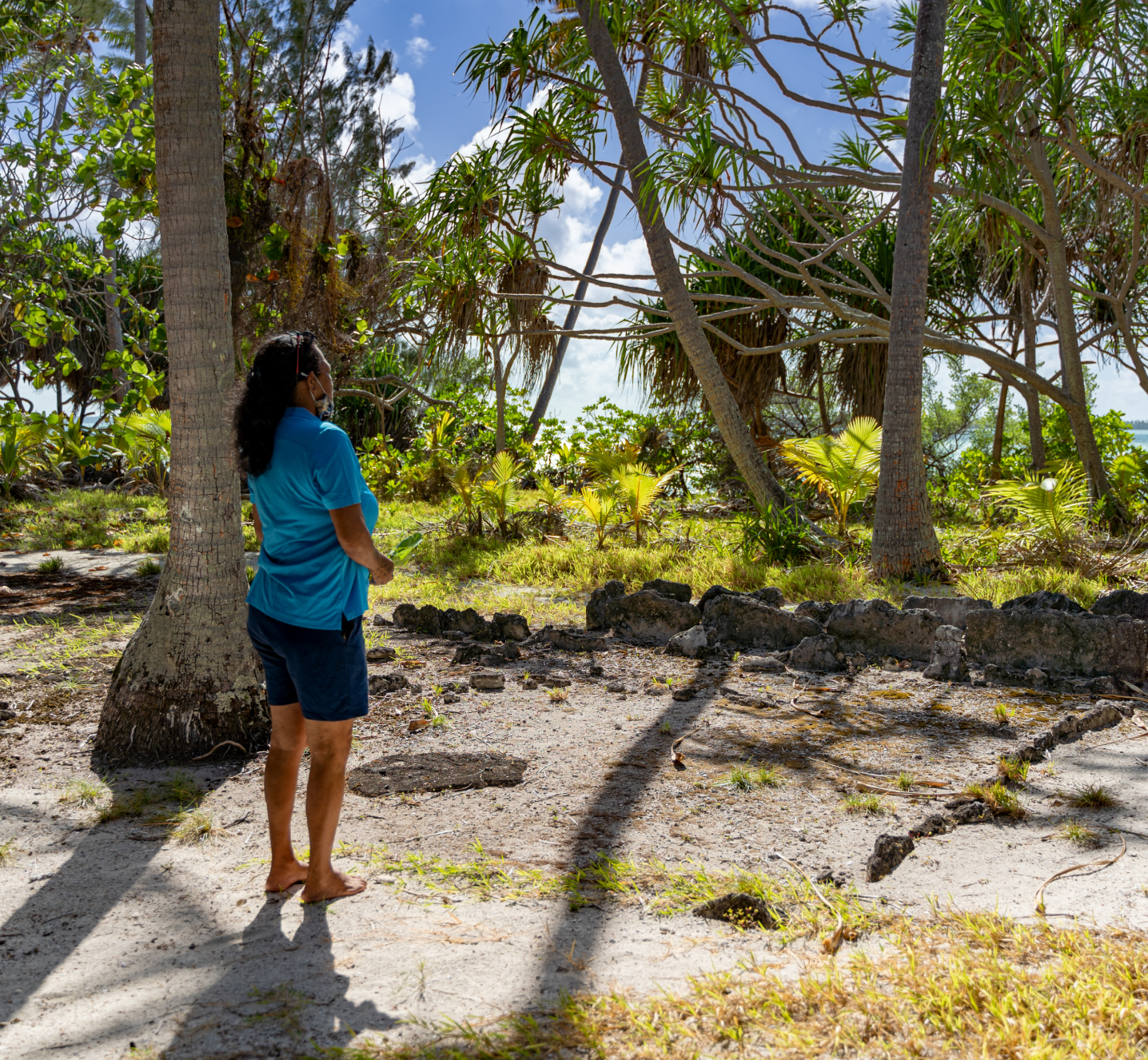 "Tetiaroa is beautiful beyond my capacity to describe"

Marlon brando